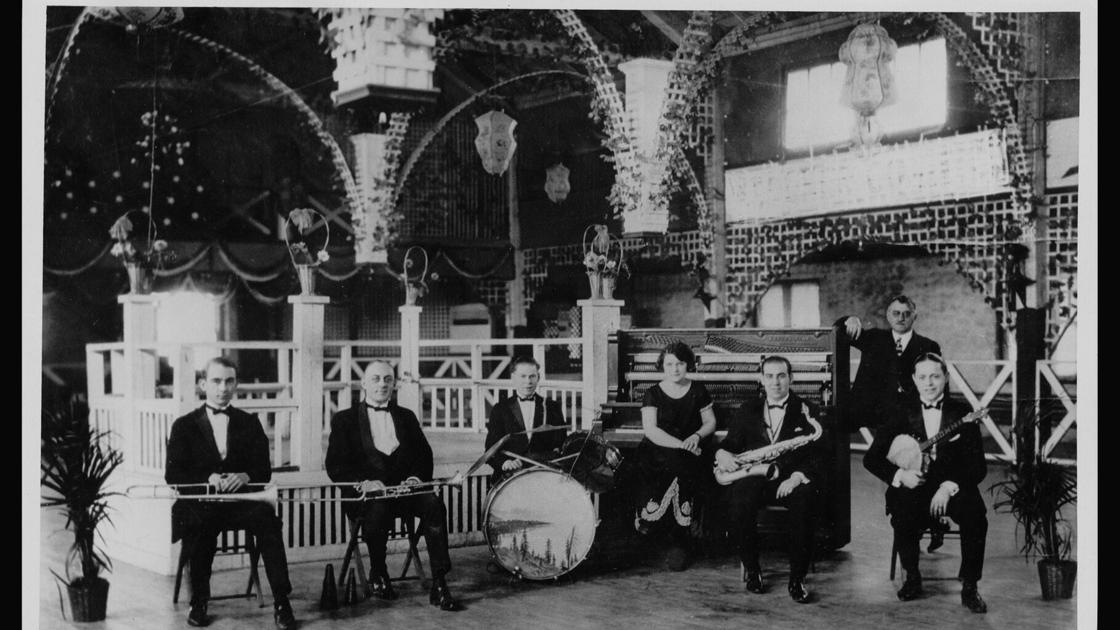 When jazz burst onto the Quincy music scene | History
Following the end of World War I in November 1918, a celebratory spirit arose across the United States accompanied by an increasingly popular and largely improvised style of music known as jazz — originally a word meaning "vigor" or "pep." As the new decade approached, the esteemed National Association of Masters of Dancing announced the obsolescence of the waltz and the ascent of the Charleston, the Lindy hop and the shimmy. F. Scott Fitzgerald called it the Jazz Age, and it began with a flourish.
Many soldiers who had played in military bands during the war continued in civilian life as jazz musicians. Quincy native Nick Musolino, a former member of the Army's 5th Infantry Band, returned to his hometown and played saxophone for a living. Soon Maurice Dickson and Larry Foiz joined him and three other veterans to form the impromptu group Sergeant Steed's Six Syncopating Soldiers.
In June 1919, a jazz club opened in Quincy and featured burgeoning bands like Highland Syncopators, Rialto Jazz Band, and Red Jackets Orchestra. While white musicians almost exclusively performed in Quincy bands, jazz itself had originated among black players in New Orleans who fused several musical styles rooted in slave culture to create a uniquely American sound. Local audiences, though, often enjoyed and danced to "colored" bands who traveled up the Mississippi River by steamboat and brought New Orleans jazz here. Among others, the Peerless Union Jazz Band and Alabama Jazz Kings played to appreciative crowds during an age when local hotels banned black people and restaurants would not serve them.
An editorial in the Quincy Daily Whig of Jan. 14, 1919, commented: "Real jazz originated in the South with the strumming of the banjo on the plantations … it takes real colored musicians to produce jazz that has rhythm and swing to it that makes everyone dance with pleasure, never before known with ordinary dance music."
While young people of every ethnic and racial group flocked to hear jazz, many older conservatives swiftly and vehemently opposed this music, calling it "obnoxious noise" and "jungle cries." Herman Kessel, a local music teacher, said that music should beautify life, not burlesque it like jazz. Mrs. Georgia Morey, director of Quincy's Junior Music Club, banned jazz songs from the club's concert contests, and the Old Time Fiddlers Association declared war on jazz. Ferdinand Gardner, a Quincy band and orchestra musician, compared jazz to a masterpiece splashed with paint by vandals and a religious hymn sung mockingly by drunken women in a brothel. At the city's first annual Radio Show, Erwin F. Swindell, musical director of station WOC in Dubuque, Iowa, told the audience that radio would end jazz by giving listeners an overdose of this music.
Movies produced by opponents of "lewd music" like "Flaming Youth," "Cheap Kisses," and "Sinners in Silk" played in local theaters to illustrate the dangers of jazz: petting leading to promiscuity, marriages ending in divorce, and the illegal consumption of alcohol.
The most zealous opposition came from church pulpits. The Rev. Harry L. Meyer of Quincy's Congregational Church said that jazz clogs the minds of young people at a time when they need sounds of the pure sacred, heroic and unselfish. Kentucky Street Methodist Episcopal Church's minister the Rev. J. E (John) Tuschhoff declared that the spirit of jazz is the spirit of rebellion proclaiming man is nothing but an improved animal and Jesus nothing but an improved man. In the May 5, 1924, Quincy Daily Whig, Unitarian Church pastor the Rev. Celian Ufford stated, "A jazz orchestra is like a band of wild Indians let loose in a boiler factory on Armistice day … morally harmful and so nerve-racking, so enervating, that it does actual harm to the public"
Jazz musicians fought back. At a Quincy City Council meeting in June 1918, Johnathan Merriweather of the Quincy Branch of the International Jazz Club, offered council members a reprieve from long-winded speeches by aldermen by inviting them instead to participate in a jazz jam session with local bands. On a motion by Alderman James E. McNutt, the council unanimously voted to strike the word "jazz" from the minutes. Alderman Sam Hyatt stood up and declared that no one would stop him from talking because he had secured 845 votes for the mayor and in his own election defeated three other men in his ward for a seat on the council.
In January 1925, Quincy's Senior and Junior Music Clubs debated whether jazz is, or is not, harmful to American composition. The Senior Club illustrated the demoralizing effects of this music with the example of Dorothy Ellington, a San Francisco woman who — in a scandal that made headlines across the country — had murdered her mother. Prosecutors in the case argued that her excessive listening and dancing to jazz during a reckless binge of partying provoked this killing.
The Junior Club countered by stating that jazz is aesthetically pleasing and an original music created on American soil with deep roots in our history and culture. After a contentious debate, judges gave the nod to jazz' rightful place in our national repertoire. Younger Quincy musicians claimed victory for this increasing well-liked music. Times and tastes were changing.
In 1928, five years after the Vatican condemned jazz as flagrant immorality, Catholic Women of Quincy sponsored a supper accompanied by the newly formed Quincy College Jazz Band. One year later, the movie "The Jazz Singer" (the world's first "talkie") starring Al Jolson in blackface premiered here to sold-out audiences and made this music new fans. Franklin School's PTA held a minstrel show with a jazz background in June 1929, only six years after Quincy Public Schools had banned "wild music" from the curriculum.
Four months after the Franklin School show, the stock market crashed and the Great Depression began, with the nation descending into its worst economic crisis in history. During these hard times, jazz provided a welcome respite from widespread destitution and suffering. Soon it would be universally performed and appreciated and recognized as the United States' sole contribution to the world's musical heritage.
"Jazz in Theology is Deplored by Rev. J. E. Tuschhoff." Quincy Daily Herald, March 24, 1924, 3.
"Jazz Sounds Wireless." Quincy Daily Herald, Jan. 13, 1921, 4.
Jones, Leroi. Blues People: Negro Music in White America. New York: William Morrow, 1963.
"Pastor Earnestly Warns Parents About Children in Present Jazz Age." Quincy Daily Herald, Sept. 8, 1925, 14.
"Relief Offered Council From Long Winded Speeches by Quincy Branch of International Jazzers." Quincy Daily Journal, June 25, 1918, 3.
Shipton, Alyn. A New History of Jazz. rev. and updated. London: Continuum International Publishing Group, 2007.
"Steamer J. S. Has a Classy Jazz Band." Quincy Daily Whig, June 14, 1919, 5.
"Ufford Attacks Jazz in Music Week Sermon." Quincy Daily Herald, May 5, 1924, 4.
Joseph Newkirk is a local writer and photographer whose work has been widely published as a contributor to literary magazines, as a correspondent for Catholic Times, and for the past 23 years as a writer for the Library of Congress' Veterans History Project. He is a member of the reorganized Quincy Bicycle Club and has logged more than 10,000 miles on bicycles in his life.
The Historical Society of Quincy and Adams County is preserving the Governor John Wood Mansion, the History Museum on the Square, the 1835 Log Cabin, the Livery, the Lincoln Gallery displays, and a collection of artifacts and documents that tell the story of who we are. This award-winning column is written by members of the Society. For more information visit hsqac.org or email [email protected].