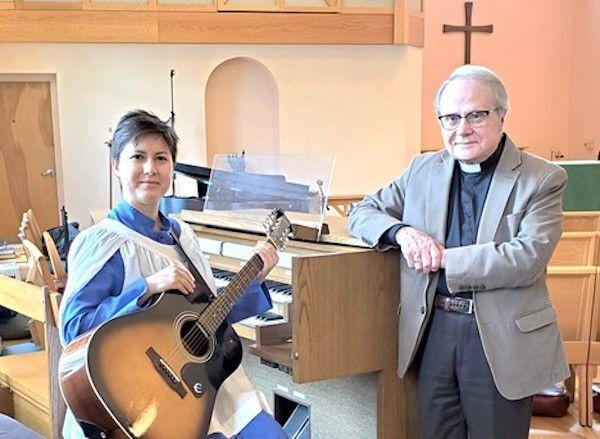 Transfiguration Church welcomes new music director | Religion
The Episcopal Church of the Transfiguration in Braddock Heights recently welcomed Santana Bartoldus as its new music director, following the retirement of Truuke Ameigh to California earlier this year.
According to Scott Myers, senior warden of COTT, Bartoldus' musical education and training in music therapy made her an ideal candidate.
"Santana has used her well-rounded education to reorient the service music to better serve the congregation," Myers said. "Her musical experience lets her pick from selections covering everything from a capella plainsong [to] harpsichord to guitar, soloist and drums."
Bartoldus holds a master's degree in music therapy from Colorado State University and a Bachelor of Arts in music from Yale University, where she studied harpsichord performance, choral conducting and orchestral conducting. She has served as director of music ministries at St. Paul's Evangelical Lutheran Church of Utica and as associate music director at All Saints' Episcopal Church in Frederick.
In her capacity as a music therapist, Bartoldus has provided recreational and therapeutic music experiences for residents at Buckingham's Choice in Adamstown. Bartoldus was already familiar with COTT as assistant director of the Frederick Chorale, which uses the church for its rehearsals.
"The acoustics of the church are amazing," Bartoldus said. "The sanctuary has a bright, warm sound, and instruments and voices blend beautifully in it. I'm looking forward to having the choir join me in services and getting to know even more of the congregation and surrounding community."
Because of COVID-19 restrictions, singing has been limited to solos and duets sung by Bartoldus and individual choir members.
Bartoldus provides the music for the 10:15 a.m. service each Sunday, playing the organ, piano and guitar. Her harpsichord is housed at the church and will also be utilized for future Sunday services.
Now that COVID restrictions have been relaxed enough to allow in-person participation in church services, Bartoldus' addition to the COTT family has already had an impact.
According to the Rev. Gordon De La Vars, rector of COTT, "for her, music is an expression of a deep faith and an integral part of genuine worship. What she prepares and offers the congregation on any given Sunday, while always technically excellent, is not a matter for her of performance.
"Following our 10:15 service, I've enjoyed hearing more than one parishioner remarking how Santana appears to be intimately involved in what she's playing, whether at the organ or the piano or with the guitar," De La Vars continued. "'She really looks like she's praising God' is a comment I've heard. Another is, 'She seems to be enjoying worshiping the lord through music.' To me, that's what makes Santana not only a music director but also a music minister."
As more restrictions are lifted, Bartoldus plans to expand her involvement at COTT to include workshops for all ages, such as introduction to singing and music fundamentals centered around Christian music. These workshops will be open to parishioners, as well as members of the community. Looking ahead, she hopes in the spring to offer a program on Christian hymnody, in which participants can learn about the history of hymn music and texts, and try their hand at writing a hymn of their own.
The Church of the Transfiguration is at 6909 Maryland Ave., Braddock Heights. In addition to the 10:15 a.m. service, which includes music, there is a spoken service at 8 a.m. Go to thechurchoft hetransfiguration.com, or call 301-371-7505 for more information about the church.