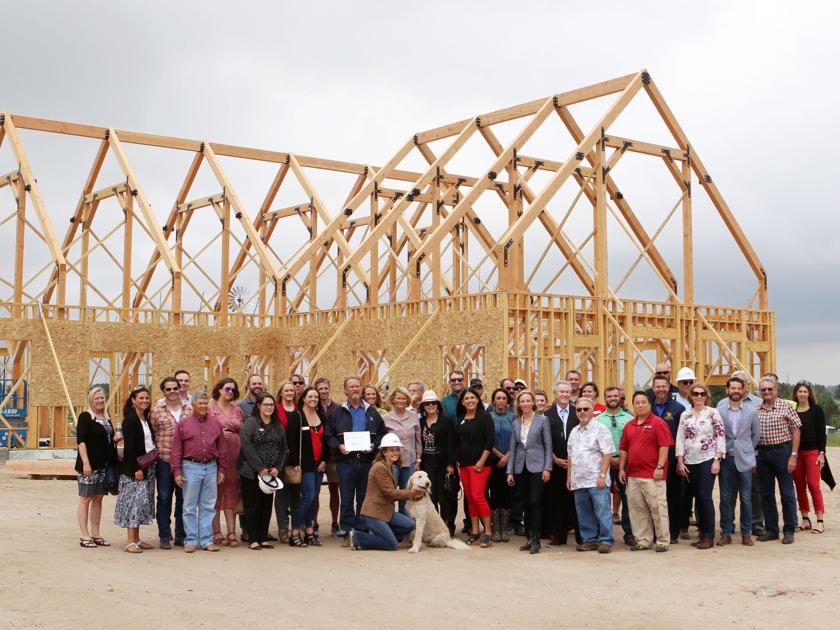 Sweetgrass developers celebrate kickoff of Village Center construction | Local News
CHEYENNE – The Lummis family and members of the Cheyenne community came together Thursday morning to celebrate the start of construction of the Sweetgrass development's office building.
Located just south of Laramie County Community College, near where Avenue C and East College Drive meet, plans for Village Center's 10 lots include retail, restaurants, entertainment, office space and apartments, all centered around a pedestrian-friendly green space with a bandshell and access to the city's trail system. Work on the first phase of the development's residential area is currently underway, with most the lots in the second phase already sold.
Though currently just a wooden frame, starting work on the first structure in Village Center was a concrete demonstration of his family's investment in the project, said Del Lummis, a lead developer for the project.
"We figured that it was best that we put our money where our mouth is and build the first building," Lummis said.
All of Village Center's buildings will be a "Scandinavian, modern farmhouse" design, development communications director Annaliese Wiederspahn said. On their lower levels, the buildings will house retail and restaurants, with multi-use space up above.
In the case of the first structure, Sweetgrass's offices will be on the ground level, leaving the upper level open as a common space for members of the neighborhood's homeowner's association.
Most of the other planned Village Center buildings are awaiting occupants. One is currently under contract, but not sold. Another commercial space – though not located directly on the Village Center green – will house a new Pinnacle Bank, with plans for a groundbreaking in October.
Encompassing about 2,300 acres, the land the Sweetgrass development sits on was originally part of the Lummis ranch, which the family has worked as cattle ranchers for more than a century. Also present at what developers called a "barn raising" for the new structure were Lummis' wife, Sally, and his sister, current U.S. Sen. Cynthia Lummis, R-Wyo.
Developers broke ground on the first phase in 2020, selling nearly 100 lots in 11 months, Wiederspahn said. This was followed by a second group of 100 lots pre-selling in just 11 days.
Del Lummis said they haven't been able to create lots quickly enough to keep up with demand. Still, it's a difficult time economically to be working on such a sprawling development, with high costs for building materials and labor, he said.
Plans are in place to build a pedestrian tunnel underneath College Drive, which would connect the LCCC campus to the Sweetgrass development. Lummis said he hopes construction for the tunnel will begin late this fall.
One goal of Village Center is to bring more amenities to south Cheyenne, and especially to LCCC students and staff. Wiederspahn said they hope to see students coming to Village Center for coffee or a beer, and to the green space for a picnic or to study.
The Sweetgrass master plan has been in the works for close to 15 years. With construction finally beginning on the development's multi-use and retail space, Wiederspahn, who is also the daughter of Cynthia Lummis and former state Rep. Alvin Wiederspahn, called the moment "exciting" and "just really happy."
"We've been promising that it was on its way, and now it's finally moving," she said. "We just want to make sure that the Cheyenne community is embraced, and that south Cheyenne is fully embraced and starts to see the type of amenities that have been available in north Cheyenne, but perhaps not quite as available to folks living on this side of town."
Hannah Black is the Wyoming Tribune Eagle's criminal justice reporter. She can be reached at [email protected] or 307-633-3128. Follow her on Twitter at @hannahcblack.