Sunscreen fragrance and summer campaigns: what's in fashion?
Phwoar, it's been a swelterer of a week, hasn't it? Well, if you haven't been able to get enough of the recent heat, then you'll be pleased to see that the clement weather has made itself felt in this week's fashion news tidbits, from KARA's sun-kissed Turkish summer campaign to Venice Beach-native ERL's first fragrance, Sunscreen (speaking of, we hope you've been lathering on your factor 50!!). That aside, we've also got a new campaign by Rafael Pavarotti for Dior, a book in celebration of Commission's first-ever menswear collection, and the long-awaited reunion of Asics and Kiko Kostadinov. Here's what's in fashion.
Dior's new campaign brings one of Kim Jones' collaborations full circle
Remember Kim Jones' collaboration with British artist Peter Doig for Dior's AW21 menswear show? As if you need reminding — although if you do, read all about it here — the accompanying campaign is upon us, photographed by one of fashion photography's rising stars, the Brazilian-born Rafael Pavarotti. Set against a backdrop of plants, because, well, they're good for you, the campaign features the stars of Kim's collection, which took inspiration from ceremonial military uniforms and the characters in Peter's iconic paintings. There are camo saddle bags, too, and those colourful mohair sweaters, delicious little Romanov-style brooches and berets and bowler hats, designed by none other than Stephen Jones, who was actually at Central Saint Martins with Peter. In fact, the beautifully saturated images could even be described as painterly, which brings it all full circle, doesn't it? OA
Commission debut a menswear book
In a new photo book by New York-based label Commission, the stories of ordinary people are transformed into poignant works of art. Inspired by their own personal journeys, designers Huy Luong, Dylan Cao and Jin Kay have partnered with legendary photographer Katsu Naito to create a physical, celebratory token of the launch of their new menswear collection. Captured in intimate black and white portraits on the reawakening streets of New York, an intergenerational span of street-cast Asian men are shot in simple but sophisticated looks from Commission's debut menswear collection. What's more, all profits from sales of the book will be split between the Asian American Legal Defence and Education Fund and APEX for Youth, two organisations committed to providing tangible support to the underserved Asian American immigrant community in New York. The book will be available to purchase worldwide for just $40, with a limited edition available for $100 via commission.nyc. If you're looking for a new coffee table book that benefits a good cause, look no further! KK 
Arnar Mar Jonsson walks on the edge for SS22
Since first arriving on the scene following their 2017 graduation from London's Royal College of Art, designers Luke Stevens and Arnar Mar Jonsson have made a name for their intelligent take on sportswear, effortlessly allowing function to guide their aesthetic. Based between Reykjavik and London, it's perhaps best thought of as weather-hardy performancewear for the modern urban man — better suited for cycling through the British capital in a downpour than it is for mountain treks in gale force winds. SS22, though, marks a slight change of course in the aesthetic direction they're taking, veering towards more dapper terrain. Titled Edgelands, named for "the zone where nature meets the city", as Arnar puts it, this season sees the pair lean into slick, tailored silhouettes, paring back the finishings to focus on quiet, artisanal construction methods. "We were thinking about the idea of aspirational sportswear, the sort of things you saw from Issey Miyake and Armani in the 80s," says Luke of one of this season's central points of reference. "We also continued working with wool, which we introduced for AW21, and that really lent itself to the tailoring techniques" on show here. Rather than result in stiff, proper suiting, it translates to discreetly gentlemanly silhouettes — to panelled sports jackets paired with slim wool trousers, and organic English cotton separates given camouflage dye treatments using native Icelandic plants. Chic sporty vibes that even those who don't find sports chic can't argue with. MS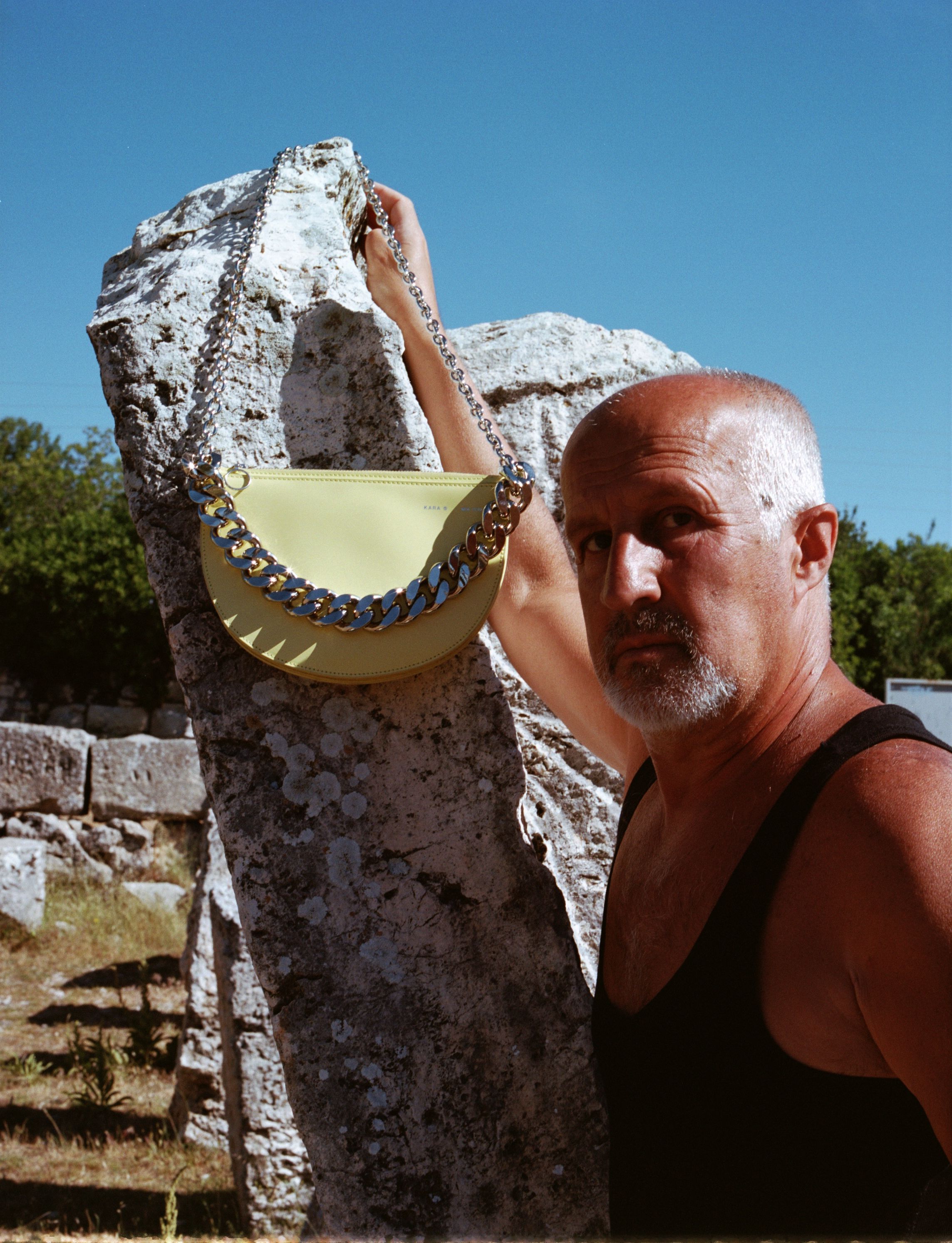 KARA samples Turkey's delights in its summer campaign
Though this summer may be panning out more staycay than jetset vaycay for many of us, the current situation should be taken as a welcome reminder that you don't need to physically travel to allow your mind to be taken on a voyage. New York-based accessories label KARA's summer campaign is a case in point. Shot by Turkish photographer Olgac Bozalp, we follow him and his father Huseyin on a sun-soaked road trip through the country passing by minarets, palm trees, rocky crags and sapphire blue seas along. The saturated hues are the perfect backdrop for the label's summer collection, which itself draws on natural elements, with his season's leather-covered crossbody 'Cobra' chain and classic KARA bag silhouettes in butter yellow and honey leathers as sterling examples. If you can't get away for the dreamy, far-flung holiday this year, then here's your chance to buy yourself a slice of it! MS
Kiko Kostadinov and Asics get the band back together
Collaboration sneakers come more or less two a penny these days, making them pretty hard to get truly excited about. But to every rule there is an exception, and in this case that exception is Kiko Kostadinov x Asics. That is, of course, due to the fact that the pair have authored without doubt some of the most iconic creps in fashion footwear history — their GEL-KIRIL, for example, is the stuff of hypebeast lore. After released what was supposed to be final shoe in the official collaboration between the London label and the Japanese sports apparel giant last January — with Kiko's studio taking on in-house roles "as aesthetic coaches to Asics design teams" as he put it back in October — they've got the band back together to release a new co-branded sneaker, the GEL-QUANTUM LEVITRACK. Available in three striking colourways and featuring a bubbly, alien-y sole, these are a must-cop — as the instant sell-out of pre-release earlier this week well proves. If you missed your chance then, though, there's no need to panic — a full release will be landing next month. Keep your eyes trained here for further info! MS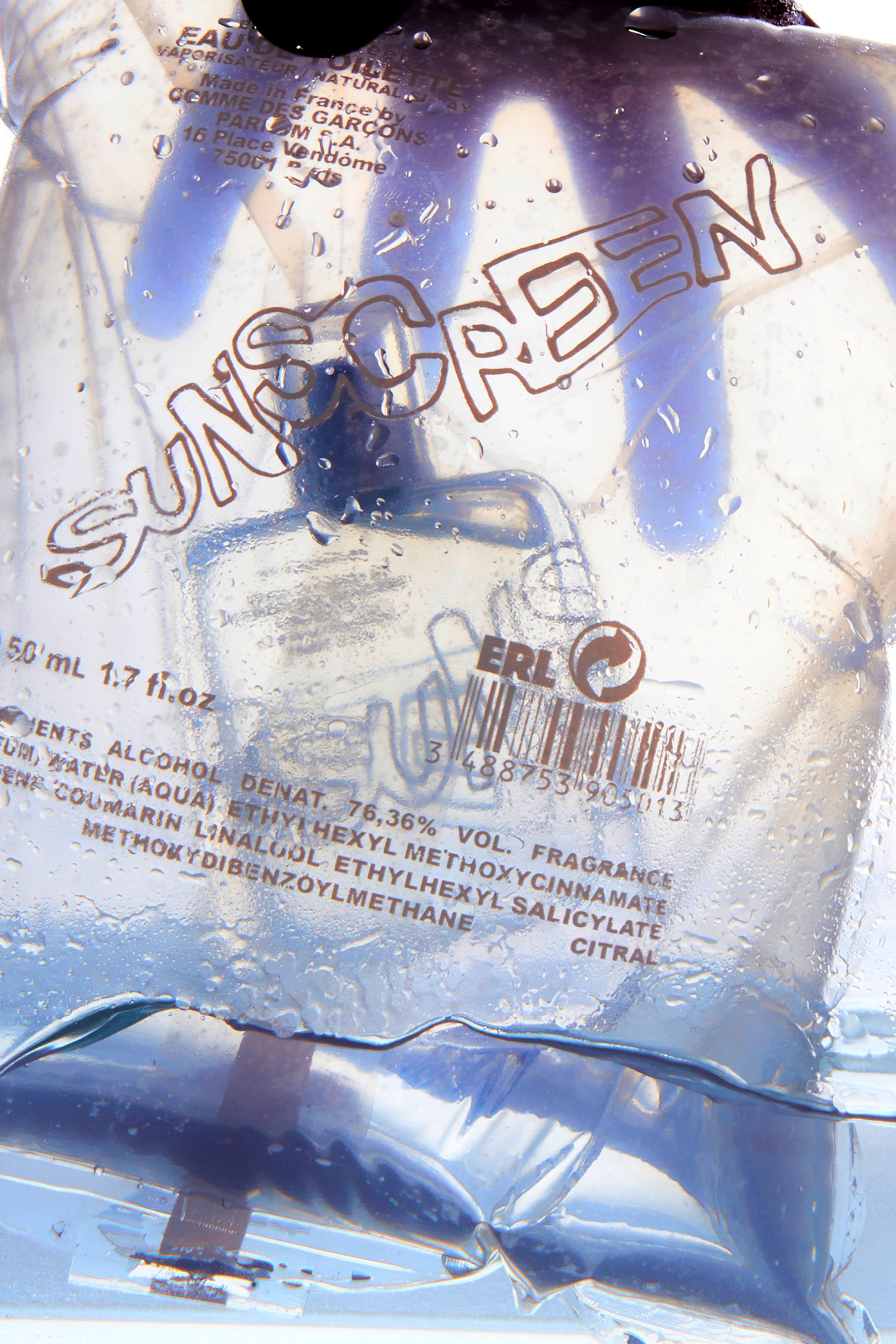 Summer is upon us, it's time to get apply some ERL Sunscreen 
It's summer, bitches! You know what that means? Sunscreen. Lots of it. Yes, we're talking SPF, but also Eli Russell Linnetz's (aka ERL) new gender-fluid perfume, an eau de toilette developed in partnership with Commes des Garcons Parfum. It took two years for the cult Venice Beach designer to make, and smells like the "warm west coast sun against salty skin" with "splashes of ocean water and chlorine suspended in the air". In other words, it smells like a summer holiday, with top notes of bergamot, heart notes of lily of the valley and peach, and base notes of musk, cedarwood and coconut. And as anyone who has watched Netflix's Halston knows, the bottle is just as important as the scent. ERL's EDT comes in an inflatable capsule, suspending the rounded glass bottle with branding that wraps around the edges. Available at CDG boutiques and Dover Street Markets around the world, it marks another feat for the designer exploring Californian sensuality and the laid-back spirit of Venice Beach. Who doesn't want to smell like a beach babe fresh out of the ocean, lounging with a tray of fruit? OA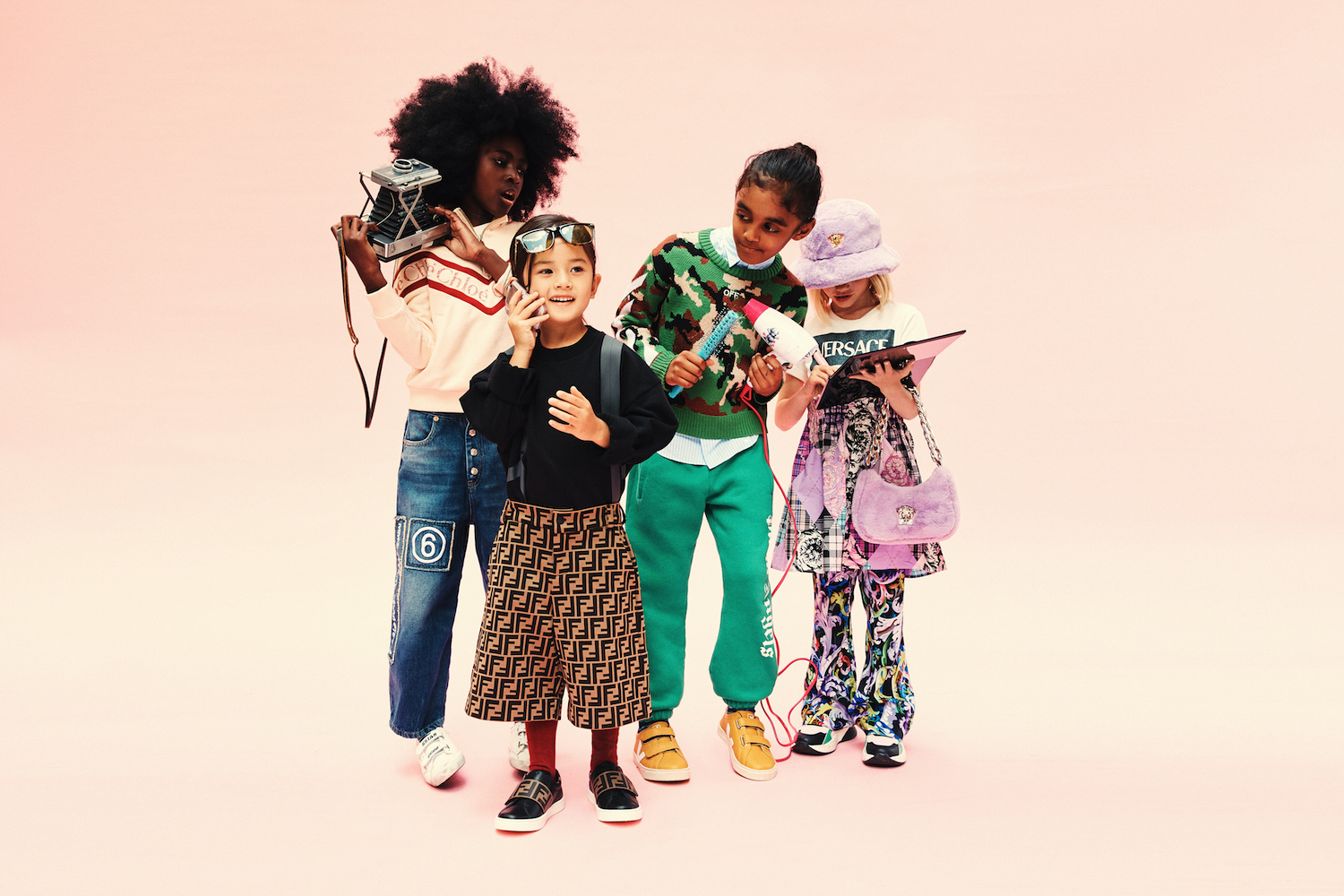 Browns introduces mini-me chic! 
It's something of a cliche to say that you want to know what's next in fashion, look to what the kids are wearing. Today, though, we're saying just that and we mean it — literally. That's because Browns, one of London's favourite purveyors of all things chic, has branched out into the world of kidswear. Featuring exclusives from the likes of Off-White and Palm Angels, as well as offerings from Alexander McQueen to ERL, Rick Owens to Gucci (yes, you read that right — Rick Owens does kids clothes), the new section of Browns' website and East London store is set to make the insecurity you feel on seeing people younger than you pull fiercer looks than you could ever muster even more intense. "The expansion into kidswear is a natural evolution for Browns and we felt we could really have some fun here," says Ida Petersson, Browns' Buying Director. "We want to create a destination for kids and their parents that evolves beyond clothing and a place where luxury meets the unexpected with some surprise collaborations in the future." Well, you know what they say — start 'em young! MS