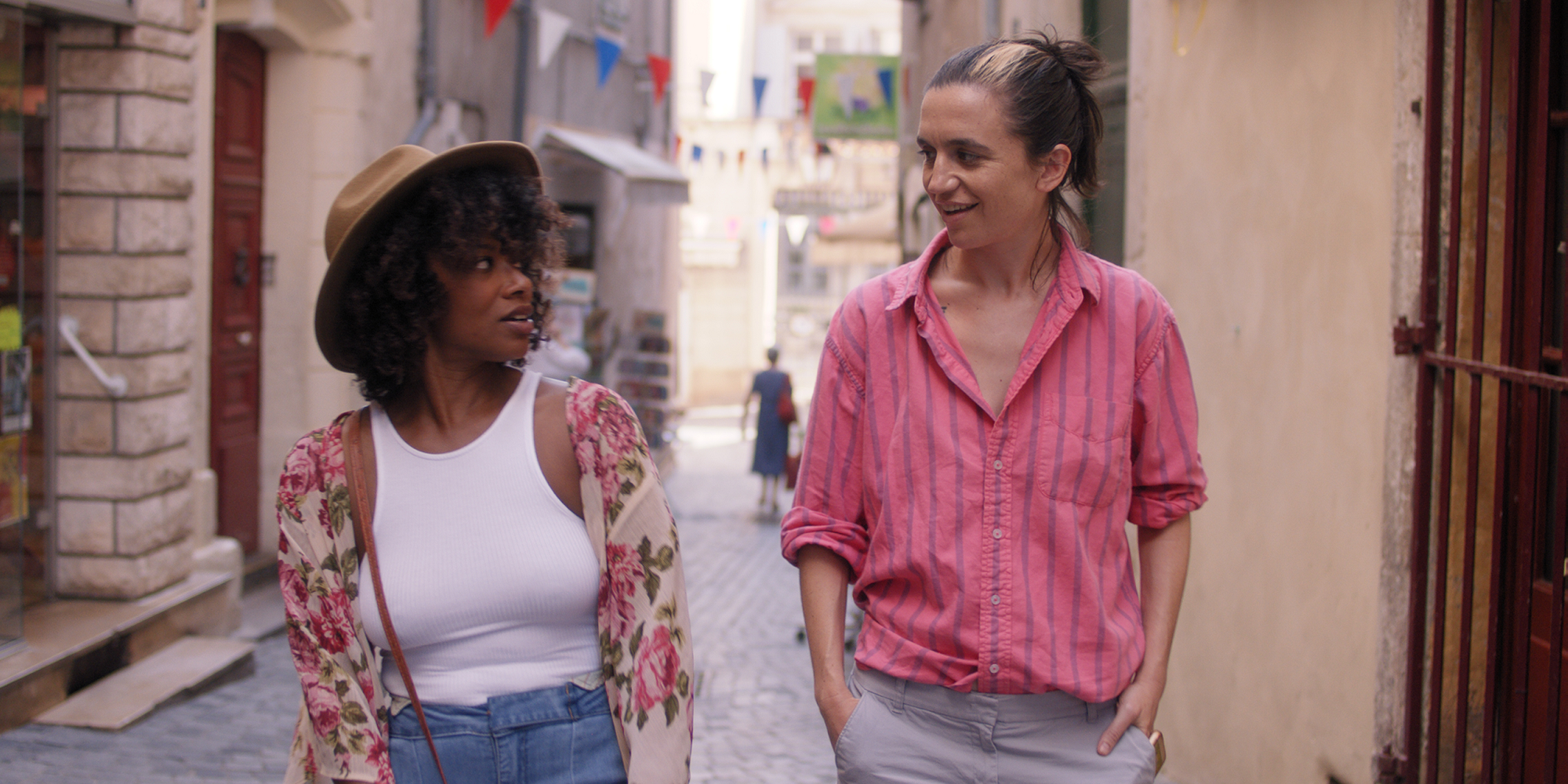 Marion Hill Directs Delicate, Honest Romantic Drama
Ma Belle, My Beauty excels in its visual storytelling, which is paired beautifully with a lively acoustic score and talented actors.
Idella Johnson and Hannah Pepper are outstanding and are very well suited to bring to life writer-director Marion Hill's vision for Ma Belle, My Beauty. Johnson in particular is breathtaking, and one to watch. A true star in the making. The film itself is lovely. It's not entirely perfect, but it's still a sumptuous little indie that makes good use of the French countryside. Ma Belle, My Beauty excels in its visual storytelling, which is paired beautifully with a lively acoustic score and talented actors.
Bertie (Johnson) is a beautiful and free-spirited woman with an angelic voice. Everything should be going well for her, but it's not. Currently living with her husband, Fred (Lucien Guignard), in France, Bertie has become disillusioned after the passing of her mother and the disappearance of her partner Lane (Hannah Pepper). After flaking on her and her husband's band one too many times, Fred reaches out to Lane. As soon as Lane appears in southern France, Bertie's unresolved feelings flare up. Some of these feelings turn to jealousy when Lane hooks up with an artist named Noa (Sivan Noam Shimon).
Related: CODA Review: A Heartfelt Crowd-Pleaser That Will Make You Laugh & Cry
The French countryside is captured beautifully in the film, the locals are lively and inviting, and it seems to be a dream to call this place home. The old houses and castle ruins scattered across the land tether viewers to the distant past that still clings to relevancy. The sounds of people chatting and laughing well into the night can just about lighten up anyone's mood. Director Marion Hill does a lot with a little to transport the audience to this place and to be with these characters through effective visual storytelling and sound design. It is as if Hill was a documentarian embedded amongst a lively community and just happened to have an interesting story unfold before her camera. To that end, Ma Belle, My Beauty is a slice-of-life story, meaning the viewers meet these characters well into their story and the film doesn't have a solid conclusion, with the audience plopped into this moment in time to glimpse what's going on with Bertie and her two lovers.
Hill does well to not force feed her audience the backstory for this throuple. Casual conversations between the characters reveal the three were in a polyamorous relationship — specifically, Bertie was dating Lane and Fred, who were not romantically involved with each other. Although Lane and Fred don't ever get romantic and remain in a platonic friendship, there is mutual respect. For those who are unfamiliar with polyamory, this is perhaps the most straightforward depiction that doesn't try to justify any of these character's choices or judges them. Simply put, consenting adults can do whatever they want with other consenting adults, as long as boundaries are respected. (Obviously, there is a little more to it than that and one should seek out reputable sources to learn more if there are lingering questions).
What's beautiful about this film is the delicate and honest depiction of people grappling with their emotions and not necessarily going about their problems the "right" way. Many people are Bertie, bottling up tough emotions, withdrawing, and not seeking help. Many are Fred, outsourcing help, attempting to roll past any inconvenience with a smile on their face for the sake of those they care about. And many people are Lane, simply deflecting, running away, and being somewhat reckless with other people's feelings. Ma Belle, My Beauty captures the difficulty of being present for others and tackling hardships, no matter how big or small they may be. This film is not just a love story, it's a story about love.
The film isn't quite perfect, and that's okay. So much indicates that Hill is on her way to being a sought-after filmmaker. However, the film is lacking that extra something. It could have used a bit more dialogue, a bit more action, and a bit more complicated relationship drama just to reach its full potential. Although the film doesn't quite stick the landing, it does exceed at being a genuine depiction of the LGBTQ+ experience, in a way that goes beyond the typical self-discovery phase. These characters are well into their lives as queer people and their story doesn't rest solely on the struggles of being queer. The film taps into what many queer narratives fail to do, which is to explore the very universal experiences that come from being a human with feelings.
The leads are fully realized women, with depth and spirit that is unrestrained by traditional societal expectations. Hill's intent is clear and her impact is deeply felt, so despite any narrative weaknesses, the film is required viewing for anyone looking for more positive and contemporary narratives about queer women. Ma Belle, My Beauty may have its shortcomings, but Hill makes up for it with a deft hand at handling her depiction of depression, the complexities of relationships – specifically, a polyamorous one – and the feeling of being ostracized in a community that doesn't look like you. Hill's film is authentic to the experiences of her characters, but is also an honest reflection of what many can feel and experience.
Next: Beckett Review: Washington Can't Muster Enough Charisma To Save A Dull Thriller
Ma Belle, My Beauty opened in theatres on August 20, 2021 in Los Angeles and New York, with an expansion on  August 27. It is 93 minutes long and is not rated.
Ma Belle, My Beauty (2021)Release date: Aug 20, 2021
The MCU Finally Has Its Version Of Superman