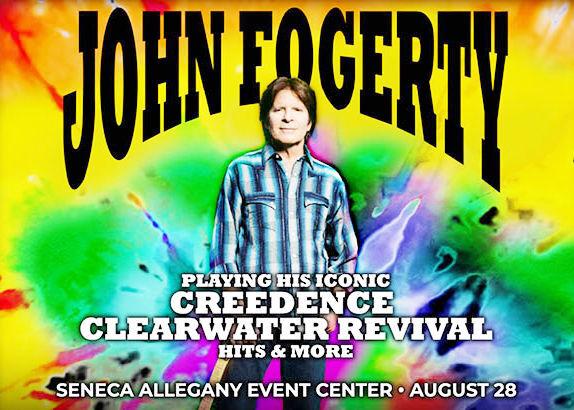 Live entertainment returning to Seneca casinos in August | Lifestyle
SALAMANCA — Live entertainment is returning to the Seneca Allegany Events Center this August after more than 18 months.
Seneca Resorts & Casinos announced Monday that John Fogerty will perform in the events center at 8 p.m. Aug. 21. Tickets go on sale Friday.
"We are thrilled to bring the magic and energy of live performances back to our stages," said Christian Printup, Senior Executive Director of Entertainment & Special Events. "We are ready to rock, ready to laugh and ready to hear our guests' cheers fill our performance venues again. We're bringing live entertainment back to our Seneca Resorts & Casinos properties, and we're bringing it back in a big way."
In March 2020, Seneca Nation leaders directed the Seneca Gaming Corporation and Seneca Gaming & Entertainment to implement additional safety measures at all of its area gaming facilities in continued response to the coronavirus pandemic.
Seneca Resorts & Casinos entertainment shows were postponed due to concern over coronavirus, including the Aaron Lewis concert in Salamanca set for March 14, 2020. It has since been rescheduled to this October.
The last show at the events center in Salamanca before the pandemic was ABBA The Concert on Feb. 8.
Musician John Fogerty was the leader of Creedence Clearwater Revival and forged a distinctive, groundbreaking sound all his own, equal parts blues, country, pop, rockabilly, R&B, swamp boogie and Southern-fried rock 'n' roll, all united by his uniquely evocative lyrical perspective.
Fogerty is a Grammy award winner who has been inducted into the Rock & Roll Hall of Fame and the Songwriters Hall of Fame. He is the only musician to be inducted into the Baseball Hall of Fame for his song, "Centerfield," a staple at baseball stadiums across the country.
Among Fogerty's many hit songs, both as a solo artist and as leader of CCR, are "Centerfield," "Proud Mary," "Susie Q," "Fortunate Son," "Born on the Bayou," "Bad Moon Rising" and "Have You Ever Seen the Rain," among many others.
Tickets go on sale at 10 a.m. July 16 and start at $75.
Tickets for Ron White, who will be performing Aug. 28 at the Seneca Niagara Events Center in Niagara Falls, also go on sale Friday.
Comedian Ron White rose to fame as part of the Blue Collar Comedy Tour. Known as the scotch-drinking, cigar-smoking funnyman, White has built a career by telling brutally honest stories brimming with punch lines and bursting with laughs.
White's popular stand-up routines have earned him multiple Grammy nominations, four No. 1 albums on the Billboard Comedy Charts, three top-rated one-hour comedy specials, a book on the New York Times Best Seller List, CD and DVD sales in the tens of millions and a place among the most popular and successful comedians in America.
This show is for adults 18 and older. Tickets are on sale at 10 a.m. July 16 and start at $35.
In addition to the newly-announced shows by White and Fogerty, other upcoming performances at Seneca Resorts & Casinos include:
A sold-out show by musician Aaron Lewis at Seneca Allegany at 8 p.m. Oct. 15.
The Village People at Seneca Niagara at 8 p.m. Oct. 28 and 29. Tickets start at $65.
Cedric The Entertainer at Seneca Niagara at 8 p.m. Nov. 20. Tickets start at $45.
Tickets for Seneca Resorts & Casinos shows may be purchased at 8 Clans inside Seneca Niagara Resort & Casino, The Logo Shop inside Seneca Allegany Resort & Casino, online at ticketmaster.com or at any Ticketmaster location.