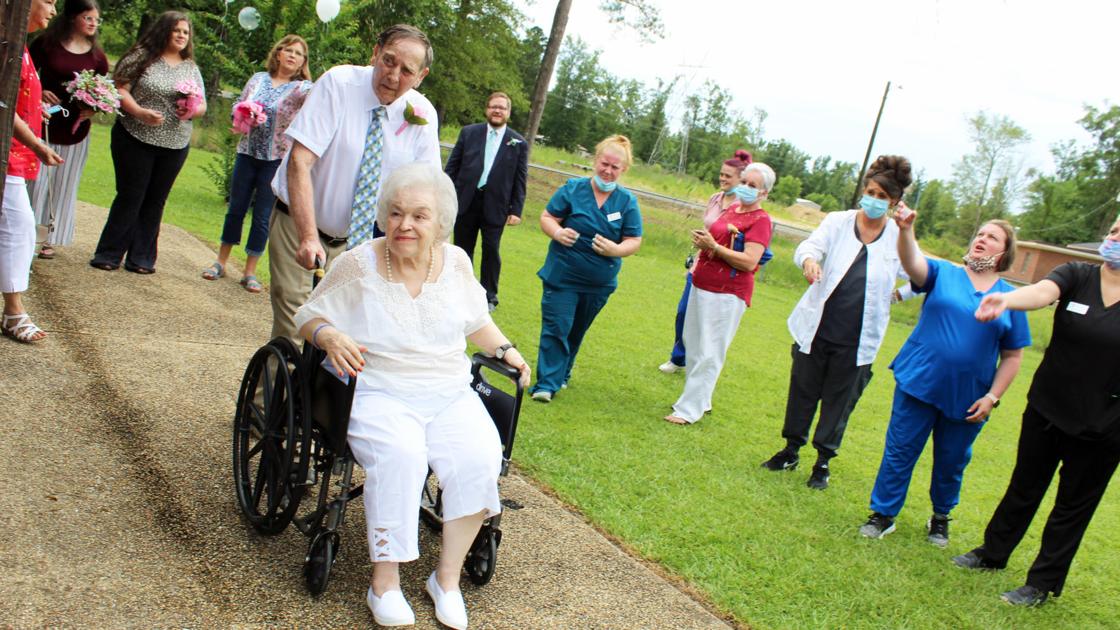 Diversicare couple gets married in nursing home ceremony | Living
AMORY – While one romantic cliche surrounds the phrase, "Love at first sight," Diversicare resident Harold Conwill, who suffers from glaucoma, leaned more on inner beauty to pinpoint the love of his life, fellow resident Sandra Capps.
He asked her to go to the dining room with him for their first date in late 2019, and their love blossomed from there.
The two were joined in holy matrimony by First United Methodist Church Pastor Wesley Pepper during a June 29 ceremony at the long-term care facility's gazebo. They were joined by family, friends, fellow residents and staff members.
While Sandra had been married before, this is Harold's first marriage. He's 76, and she's 74.
"I didn't want to get married just because I was lonely. I just loved her because she was so good to me. It's God's will for her and me to marry, and we're just doing God's will," Harold said.
Before coming to Diversicare as a resident Dec. 5, 2019, he lived at Nettleton Club Land. Sandra previously lived in Amory before moving to the long-term care facility in January of that year.
"When I came to the nursing home, I wasn't looking for a girlfriend. I just saw her, and she was so good to me. She gave me snacks and she was friendly and talked to me. We just took a liking to each other, and it just progressed from there," he said.
Harold's vision has progressively gotten worse the past two years and can now barely see at close range.
"Beauty is only skin deep, but I love her spirit and the words she speaks and because she's friendly to other people," he said.
It didn't take long for the two of them to fall in love after they first met. Sandra said she was drawn to his gentle spirit.
"It didn't take long after Dec. 5, 2019 that I asked her to be my girlfriend, and she said, 'Yes, I'll be your girlfriend.' I told her I love her and I'd be her boyfriend," Harold said.
Being partly nervous that day, he proposed to her Oct. 5 last year in the dining room. Complications surrounding COVID-19 restrictions, however, pushed their wedding date out nine months.
"It's really been in the planning stages for a month. They wanted it a long time ago, but COVID kept us from having it sooner," said Cindy Murphy, who first connected with Sandra in 1986 while they lived near each other.
Through the years, their friendship blossomed. She served as the wedding planner for last week's ceremony.
"I came down here to talk to them, and she asked if we were going to do it. The first week of June, we decided on the date and time. I told them I'd take care of the wedding rings, and that would be my present to them. I told her, 'As far as your outfit goes, I'll take care of that as well,'" she said.
The timing of Harold and Sandra's ceremony coincided with the 53rd anniversary of Murphy and her husband's wedding.
"This is an answer to prayer. Harold adores her and is so considerate of her. He's a fine Christian man," Murphy said.
She noted Sandra and Harold were named as Diversicare's king and queen of a pre-COVID Valentine's Day celebration.