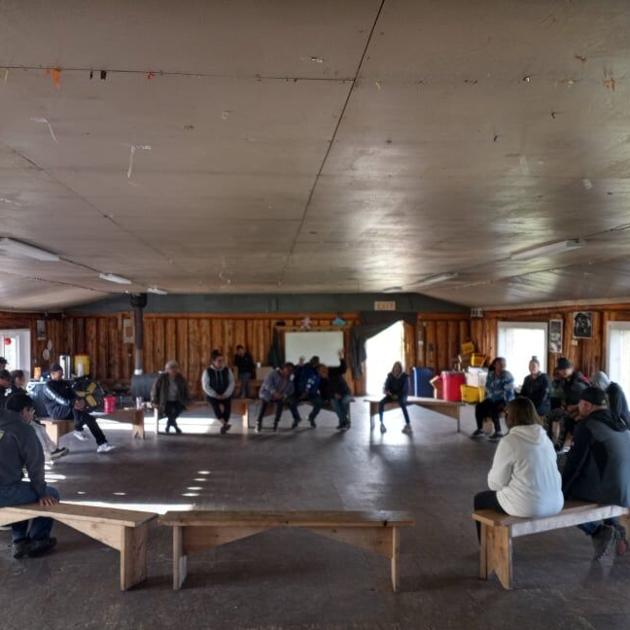 Connecting to traditional Native lifestyles: In an effort to prevent suicides, advocates call for knowing heritage, traditional ways of life | Local News
Connecting to a traditional lifestyle can help Alaska Native people find a new purpose in life.
Subsistence hunter and fisherman Charlie Wright traveled to Arctic Village last week to speak on how a subsistence lifestyle and traditional way of life can help prevent suicides in rural Alaska.
Wright explained that living on the land and practicing the Alaska Native way of life, whether it's rabbit hunting, fishing or trapping beaver, makes people feel good about themselves. And when you're successful in it and you pass that knowledge on to young people, they become good stewards of the land and good providers as well.
"When that circle is there, it creates a sense of accomplishment and pride and something more," Wright said. "Once that circle is broken, people tend to go down the wrong road, and for some people, it even takes them to suicide."
Alaska Native adolescents and young adults often have alarmingly high suicide rates. A 2018 report from the Centers of Disease Control and prevention found that American Indian and Alaska Natives have the highest rates of suicide in the country — 3.5 times higher than other ethnic groups. Meanwhile, Indian Health Service reported in 2014 that suicide was the second leading cause of death for Alaska Native or American Indian youth between the ages of 5 and 24 years old.
In Arctic Village, a young person died in the end of June, and though it was not a suicide, tribal leaders wanted to support their youth, said Kelly Fields, a health department executive assistant for the Council of Athabascan Tribal Governments that supports Native communities in the Yukon Flats. 
"The youth were really struggling, so we wanted to make this event happen so they have a place to talk with someone," Fields said.
Wright flew to the village last Tuesday and talked to about 40 residents, gathered in a circle in the sunlit local gym.
"This is a huge outcome for the village," Fields added.
The talk started with sharing food and slowly went into a dialogue about hunting, fishing and the importance of advocacy for both.
"It was a very good day," Wright said. "They invited me back for the fall caribou hunt where they have a youth camp so I'll be going back again this fall."
Wright also shared with the Arctic Village residents how he grew up living off the land "through hardships and trials and tribulations."
"I once found myself going down the wrong road for a while," he said, referring to a period of his life when he started drinking more. When Wright's children got to a certain age, he said he didn't want them to see him drinking anymore and quit.
"When I connected with my way of life, l turned my life around," he said. "Raising children and feeding them off the land was very healthy and made me turn into the advocate that I am today."
Wright is a treasurer for Tanana Chiefs Conference and a member of various organizations that stand for Alaska Native values. The idea to give a talk came to him when he heard how the leaders at the Council of Athabascan Tribal Governments are looking for creative ways to engage with young people.
"We're coming up with new ideas to reach the youth in our area," Fields said.
The council plans to invite Fairbanks teen activist and model Quannah Chasinghorse to share her story and talk about reaching goals. They also want to discuss bullying in schools when fall comes.
In August, the council invited Wright to host a similar talk about traditional way of life and behavioral wellbeing in Fort Yukon, and later in Beaver and Venetie.
"The traditional lifestyle is key in order to lead a positive life," Fields said. "And what Wright was touching on really played in all of our hearts because we know what we need to do. We just need more encouragement in pursuing that goal."
Contact staff writer Alena Naiden at 459-7587. Follow her at twitter.com/FDNMlocal.